Dexilant / Kapidex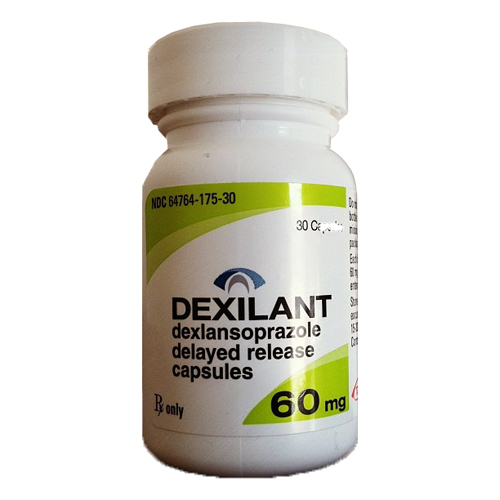 Dexilant / Kapidex Reviews
I have studied about side effects regarding Dexilant 60 mg some medicine sites and medicine forums and reviews (like this one) so my studies seemed to be helpful as they saved me one useless trip to my ER doctor. Well, I have been on Prevacid (and on other medicines as well) but it seemed that it simply stopped to work so I have been put on Dexilant. I took it for one week (exactly 7 days) and for the first 2 days it seemed to work just perfect, without side effects. My heartburn and esophageal burning stopped and I was happy about it. Before I took Dexilant I was on Tagament, then on Aciphex, then on OTC meds and the last on the Prevacid and only after I took Dexilant I thought that I am finally getting a really good medicine. However, I was wrong because in the 3rd day side effects started and they were horrible. I knew for sure that they are related to Dexilant thanks to several different forums and sites and thanks to one guy from my work who also started to take Dexilant around the same time as I did (one day after me). he had developed the same side effects as I did and they have also stopped in 2 or 3 days as both of us stopped to take this drug. He had the same itching, horrible headache, confusion and unstoppable dizziness as I did. Well, here is the list of side effects that I have been suffering from besides those I've already mentioned: heart palpitations, neck pains, a similar feeling to flu, chest tightness, sore throat and a feeling of lump in my throat, muscle twitching and middle chest pains as well as very bad scalp burning. I am very happy that I have stopped to take this pill because it was very hard to deal with them. I am suffering from GERD, Baretts and hiatal hernia and it seems that I need PPI forever. I cannot stand to take anymore drugs because comparing to those horrible side effects, heartburn and reflux are easier to deal with. Well, at least I know what I should do about them. Here is what I would recommend to those who intend to take this drug: beware because you don't know how your body would respond. Also, I recommend you to do the same thing as I did: read and study as much as you can about the drug you want to take so you would know for sure what can possibly happen. Hope this would help somebody.
I was diagnosed with barrett's esophagus and doctor prescribed dexilant. I can say that it is working amazingly for the acid reflux but overall it does not work for me… unfortunately. I have many side effects from it. I think that those who don't have side effects from this drug are very lucky as it does help for acid reflux and you don't have side effects from it. I was able to eat anything I wanted and I was feeling perfect but later I developed 24/7 headaches, my blood pressure went up and I was feeling tired all the day long and it wasn't matter how much time I was resting. As soon as I understood that all these side effects are from the medication I stopped it and now I'm feeling bad again but without all those side effects. Now, my doctor and I are trying to search for another effective medicine for acid reflux but without negatives. Hope I'll find it soon..

I'm here just trying to help other people so I hope somebody would read my review and it will help you. If you suffer from GERD and you didn't yet tried Dexilant then shut down your pc and go to your doctor and tell him to give it to you. I've been suffering from this condition for more than two years and I've tried everything and used everything. I've tried to change to different diets, I've tried homeopathic remedies and otc medications – everything! You name it – I've been on it! I was even put on protonix on the maximum dose taking it 2 times a day and I was taking it along with Pepcid also on the maximum dose each day and this ultimate mix of medicine didn't helped me. Dexilant did. It's the only one that actually worked! I've visited another doctor after months of suffering and this doc the first thing he did was to prescribe me Dexilant. I never thought that within 3 days I'm gonna be so much better. The relief was soo satisfying. I'm taking it for a little over a month now and since then I was barely feeling that I'm suffering from any condition. Amazing medicine. I guess my condition was very severe since none a single medication worked (even mixes with such high doses) but Dexilant did it job. The side effects are unnoticed. Hope this medicine will work for me forever because if it stops working, I'm done!