Nexium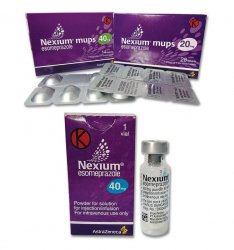 Nexium Reviews
Unfortunately and finally, I am diagnosed with acid hitting my throat (someone might know it by LPR). Also, the doctor told me that I am having a small stomach hernia which is stopping my sphincter to close. I wrote that I am "finally" diagnosed with LPR because I suffered from 6 months of pains until I was diagnosed with it. I went to three different doctors and all they said that that I am having allergies. They were telling me the same thing and they were prescribing me the same medications in order to help me but they didn't work. So, I was searching for a doctor with a different opinion. Finally, I found one doctor who suggested that I am having a "silent acid reflux". I told him that other doctors were telling me that I am having allergies and he replied that someone can easily misdiagnose them however, they're totally different. Well, he said that I should cut out all the foods that are causing even more acid that in my case are affecting my ears and make them hurt (very bad). The doctor told me that I am having a lot of nerves through my throat that are going up to my ears and my sinuses which is making all this situation. Here's the list of symptoms I am suffering: flaring up through the sinuses, a bad pain that is located in the back of my neck up to the top of my back head and (as I said) bad burning sensation to my ears. Overall, I had a pretty bad case of acid reflux and even so the nexium helped me, even though not fully. I was on this medication for more than 3 months and while I was on it, my flaring returned only with 15-40%. Moreover, I had a lot of bad side effects which never stopped. Doctor said to discontinue using Nexium in order to do some tests on checking how my GI works.
I suffer from GERD for years and I'm also taking Nexium for years. For over few years I took this medication as it was prescribed but then I've looked more into controlling my acid reflux by watching what I eat daily. A good diet is worth almost all the medications. Chocolate, tomato sauces, mayo, mints and many others are really setting it off. Sometimes I do forget about it but I'm trying to take Nexium to its minimum. I mean that I'm trying to take it as infrequently as I can and as it is possible. For those of you who're having troubles with hair, bones and so on: You can find easily anywhere on the internet written than Nexium is affecting your calcium levels. If you're having (or ever had) problems with bone density or other calcium related problems then you should consider taking another medication. That is the reason why I've always tried to keep it to a minimum level. I'm taking it for years and I never had a problem with decreasing my bone density. There might be also other side effects that you should consider before taking a medication. Nexium can be and it is a really good medication but only if you use it carefully. I'm sure that if I would have been taking Nexium incorrectly I would also have side effects now but as I was careful about it and averaging one every 4 or 5 days I'm not having any troubles. Before making any judgment you should think what you've done about it firstly. I'm not selling this product and I'm having anything from it besides that fact that it is keeping my GERD under control, but I'm just frustrated how a lot of irresponsible people leaves bad reviews everywhere about this product (and others as well).
Hey there! I was suffering from bad acid reflux and for my condition I was put on most acid reflux medicine that exists out there. Everything seemed to normalize when my doctor put me on a really high dose of Nexium. In fact, everything came back to normal later, when I went to that doctor for a check up but he said that my throat was trashed from acid reflux and he recommended to take even a higher dose of Nexium. I was shocked. I knew that I'm already taking a big dose but even a higher dose seemed craziness for me, however I've done how the doctor said plus I've tried one trick. I learned that I should avoid the foods that are triggering the acid reflux. Nexium has greatly helped me to reduce the acid reflux and by the end of the summer (I've started to take in in the beginning of the summer) my issue was greatly reduced. I was tired of taking all kind of medications for this disease but when I've noticed that I should stop eating triggering foods and that nexium helped me to reduce the reflux I've been pleased! Now I rarely take it, maybe 2 times a month but I can still sleep properly and live my life normally. I do know that not everybody can take it due to some factors so if you can (talk it to your doctor) then I recommend it! Simple tip – some trigger foods that should be avoided – oily foods, mustard, cream, chocolate, chickpeas and others. Wish you good luck.
I have developed pains that were probably caused by endometriosis and my doctor prescribed me this medication. The doctor could not help me by any kind and I guess he gave me this drug only to see the effects or I'm not sure, anyway, Nexium didn't helped me much! Well, as I remember, I had a little relief but it was very and very little, my pains were still constant and I was still struggling with these pains. I personally won't recommend it to anyone who's having pains. Maybe the drug really works for other conditions such as GERD and Barrett's Esophagus but it's useless against pains caused by endometriosis. At least, for me. I would say more, this pill is overpriced! My insurance could not pay for all the pills I was prescribed so I was forced to spend money on an overpriced pill that was useless. I discontinued to use this drug for few months and I'm sorry that I have to leave a bad review about this pill but I really want to help other people to avoid spending their money on something that isn't worth for. My doctor also prescribed me Buscopan, which is another useless drug, but I won't talk about it here, I guess it should be discussed in another review! Good luck everyone and I hope that my review helped at least one person!
Totally recommend this drug, it is a miracle drug! My situation was very bad, I was feeling sick and I could not live my life normally anymore. When I went to the doctor 2 years ago he made some tests and then diagnosed me with Barrett's Esophagus. Immediately after that he prescribed me Nexium. Since then I am taking one pill (of 40 mg) per day. Slowly, I was feeling myself better and better until not so long ago I went to him for a gastroscopy and I could not believe him when he said that my Barrett's was unseen anymore. Doctor said that I should continue to have the gastroscopy every few years in order to see whether my disease isn't returning back. Doctor said that probably I should be on this medication for my whole life but it is unclear. Anyway, I love the way this drug works so I can recommend it to everyone who suffers from Barrett's disease. In these 2 years I have noticed zero bad side effects so I doubt that they will ever appear further. Or who knows?
I am suffering from Acid Reflux for years. Doctors told me to take many kind of medications but none of them could help. Later I was told about Nexium. I've been taking it for years with good control for the acid reflux, therefore I could say that I'm pleasant with its effectiveness, however now I'm dependent on it. Now I can't stop using it because whenever I attempt to do so, my disease comes back even worse than it was before I took the medication. I've heard that this medication has vitamin deficiency so whenever someone tries to stop taking it, Nexium causes excess acid of the stomach. It's a really helpful drug for heartburn but you should take it for a short period of time. I'm a long term user of it and trust me my symptoms are not something you would want to have if I stop take it. I'm tired to buy this drug for so much time and to spend so much money. If you can avoid taking this drug then avoid it! If you don't then I highly recommend you to ask your doctor about vitamin supplements and continuous stomach and blood work check. I have to admit that it worked great for these years but I cannot recommend this drug to others! Please take care and beware of this drug!
I know every medicine has different effects on different people, but for my heartburn, Nexium was the best I have tried. In time I have been of different drugs, over the counter ones, prescription medications, brandnames, and generic, nothing worked better than Nexium. It relieves my pains and I didn't notice any side effects. Even if it is a little expensive, I am willing to pay the price just to get off the terrible heartburn.
I've been diagnosed with Acid Reflux disease and since theni had to struggle with every day responsibilities as a mother very hard. My doctor prescribed Nexius after I had an operation on my hiatel hernia. Nexius did a very good job with my esophagus, I wasn't feeling heavy after my meal anymore, nor stress when trying to sleep. I totally recommend Nexia to everyone suffering same disease as me.
I suffer from heartburn for about 5 years, the pain is really nasty especially if I eat fast foods or spicy dishes. My doctor prescribed Nexium, this drug relieves and prevents heartburn. I am now able to eat what I like without feeling sorry after. I am happy I am using Nexium, I feel more like a normal person and can enjoy my delicious meals, I try to limit them anyways, just to be sure. I would recommend it to everyone suffering same heart condition like me, that will make your life easier!