OxyContin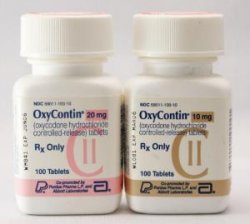 OxyContin Reviews
Hey I had some problems with my feel some months ago so that's why I had to start the administration of Oxycotin. All the problems started when I left the hospital because before this everything was under control. When I went to the hospital and I started to administrate oxycotin I noticed some terrible pain that I did not experienced during my recovery in the hospital. When I noticed these strange pains I decided to start an investigation on this drug. The things that I found out made me feel very strange. I found out this drug was taken off from the market and was replaced with another formula that is able to cause cancer. I don't know what the reason of this thing is. OK, I'm not a scientist but it seems to me very strange. Besides the fact that this drug doesn't help at all I read that there are people that abuse it and use it more often than it's used to be. I would like to say that there are many other medicines that can help with the same problem without damaging. I hate to admit that I noticed that the biggest parts of drugs are made in order to create this dependence for these drugs and to make people believe that it really helps. The thing that I hate most is that people created another formula of a drug and this can create cancer. We are so stupid because we even don't care what we administrate. We think we administrate something that can help us but in reality we don't know that those who created this drug don't care because they are sure that nobody will discover this. I would like you to know, those that consider that this drug help them are stupid. After some years of administration you can develop different kinds of cancers and you'll regret that you didn't knew about this before. The biggest problem is that we do nothing for this we just stay and wait until all de drugs will have the same problem as oxycotin and will start to have the necessity to use other drugs in order to get rid of other diseases created by other drugs. Please people start doing something this is very important. Why don't you understand that they make money on our health and we are too stupid to understand this?
When I just started to take this OxyCodone medication it was pretty beneficial and I was happy that I've started to take it, it helped me in easing the chronic pain but later everything changed when I had a back operation not so long ago. Because of the bad side effects I was experiencing my dosage was brought down. Initially I was taking a dosage of 120 mg a day but now I am taking only 25 mg a day for a couple of days now. I don't know what would have been happen if I would have stopped taking it completely because reducing the dosage has been certainly stressful dealing with the withdrawal effects. Anyway, I have to tell you that learning how to cope with the withdrawal symptoms each day (my GP was helping me with this) has helped me to deal with this bad regression of the dosage. My GP become my counselor for a couple of weeks now and this has helped me greatly. I am taking this medicine for a period of about 4 months plus or minus and I have big hopes on being totally free of this OxyCodone withdrawal symptoms in at least the same of time I was taking it. Obviously I would want to make them disappear even earlier but I don't really know if this is possible so, I am ready to deal with them for 4 months now. there's no doubt that this medication has helped me to ease the pain I was suffering from but it stopped helping after I had the operation and moreover it has been a painful journey dealing with the withdrawal symptoms. Lately, I am searching very much for an alternative medication and if somebody knows one, I would be happy to know its name. thank you for your attention.
Oxycontin literally gave me my life back, I am very thankful to this drug, to whoever made it real and to my family doctor who has put me on it. I had a very bad case of coal mining accident. It happened in 2009 and since then my life was completely changed. Suddenly my dreams, my thoughts and all my life changed. I have had a lot of surgeries since then: five knee and leg, three for my hips and one for my right shoulder and another one for my left shoulder. My shoulders were reconstructed! I was living an extremely miserable life and since then I have been on all medicine combinations the doctors could only give me. my family doctor told me that they put me on every pain medicine they know. Only Oxycontin turned out to be the one that is helpful. It made me able to walk again without suffering from terrible pains. Without this medication I would have had pains even now, 6 years later. some other doctors wanted to put me on such pain relief products like Fentanyl or Opana or a lot of others but I am very glad that I am Oxycontin. This medicine is above of them all! Anybody who is struggling in pains I would firstly recommend this medicine! By the way, I haven't had side effect! Only a couple of time I have had constipation but I doubt that this is caused by this product, but even if it's so then it's nothing to the relief it gave me. Oxycotin is purely awesome!
I injured my back very bad into an accident and I herniated 3 discs and had 3 failed surgeries and a ton of absolutely ineffective pain killers. My doctor gave me this medication until a cure for my spinal nerve damage would be found and there's nothing more to say that wonderful! I am able now of doing simple things that I wasn't able to do prior to take the drug. I can enjoy my life again near my husband, I can walk my dog and I can clean my house! In other words this drug gave me my life back. I think that the key is that I'm taking extra care about how much I'm taking because if someone wouldn't be very serious about the possible addiction properties this drug has, it can simply make an already bad situation into one a lot worse. I don't have side effects and I'm enjoying my life again. That's because I'm using the drug with great care as I said above. I just wanted to let other know that oxycontin is good, but use care with it.
I was suffering from chronic pain for a really long time and I have tried many medications in order to combat it's effects but nothing worked. I can say that OxyContin is the most effective and the most tolerable medicine for me especially compared to those I've been before. Now I'm taking this drug for approximately 10 or 11 years and as I said it's quite effective but I cannot say that it is perfect. Over all of these 11 years I have had to raise my dosage periodically until I reached (as I know) the highest dosage of 210 mg of this medicine in 24 hours. As I know, there's no point in raising higher than this level because a higher dosage won't have any more effects and there's a risk that side effects I have would be even worse. Now, the only thing I am abe do is to live with the same level of pains I am living now. I doubt that there are other medicines that would work better but if somebody of you knows something you may PM me the list of drug you think that will help. I've tried many of them before so there's a possibility that I've tried your suggested drug too. Side effects are very mild but I don't like that it causes erectile dysfunction. In the beginning I wasn't sure whether this medicine is responsible for this but later I've talked to many others who take this drug and they agree with me. Developers of this drug claim that this drug doesn't affect erectile dysfunction more than 1% but IMO it affects much more. Take care everyone and I wish you to be healthy!
Hi everyone, I want to report that I have finally found a real pain management I was looking for a long time! OxyContin is really working for my chronic pains comparing to the previous medicines I was taking that never worked! I would say that this drug is perfect before but now I don't know why they switched to a generic version and this IS a problem for me. I do know that there should not be any difference between brand oxycontin and its generic form but there is and there's a bad one. When my doctor firstly prescribed me this drug, it worked perfectly, much effectiveness without any side effects but now after I started to take the generic form the effectiveness is the same but I have one side effects: I started to experience horrible headaches occasionally. I have never had them when I was taking the brand Oxycontin, too bad it started now. Even though the headaches are not occurring 24/7 they are still disturbing me because they are really awful! I would like to get back my old Oxy and I really wish that someday they would rethink their choice. Other than that everything is just perfect and I would recommend it anyway. I take it for about one month and I don't know the effects for the long term use but until now it is good. I wish good luck to everyone and regardless of what drug you are taking don't forget to take care!
Spinal fusion is the main reason of my chronic pain from which I'm suffering quite a long time now. Since then, I have tried every known medicine and pain killer I could find. It seemed there is no hope for me and no possible way to keep my pains under control. Everything changed when my doctor said that there's a medicine I didn't try yet. I had nothing to lose since the pain was never leaving me alone. So, OxyContin was and it is the only medicine that is actually working on me. This is the only medicine I can now call a real "pain killer". I am taking 15 mg of this drug 4 times a day and I'm feeling amazing! I can now walk long distances without stopping several times, I can do light to average work around the house, do some light exercises and much more as simply living my life again. OxyContin has proven that it is the best medicine for pain even though I was very skeptical that it is going to work first few days. I was living a really miserable life but now I'm having a whole new life, another life that it is worth to live compared to the previous one.