Finasteride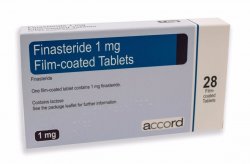 Finasteride Reviews
Only in my mid 20's I have already started to noticed that my hair was beginning to thin. I knew that this is genetic as my father and my brother (older) exactly as me started to became bald (they are now completely bald) at the age of 25. I really did not wanted to look like them. my father likes how he looks without hair and he said that he is fine this way. My brother got used. But well, I do not want this way and that's how I have got a prescription for a drug called Propecia which contains this Finasteride. Well, I guess that so far it has been working fine and I am glad it did. But I have to pay attention on not missing a dosage as if I do miss one then I can notice some little bits of my hair that are falling into my keyboard while I am doing stuff like I do now. generally I try to do everything as direction because if I don't I really notice it falling everywhere (in my car, on my books while reading and so on and so forth). I am not sure if this can be considered a downside of the drug – I am talking about the fact if I miss the dose. It is not the drug's fault that I do not take it so I guess the drug should not be attributed here. however, one sure downside of this drug that it is expensive and nobody likes it and everybody are complaining about it (I guess only millionaires are not complaining on it). I say so because it is so expensive that my insurance is not covering it all (but I find it pretty funny that they do cover all the cost for Viagra though…) anyway, other than that – everything is fine. as I said, it does work and it does what it should. The only side effect that it carries is that I did noticed a little bit of decrease in my sex drive, however to be honest with you that really seem to be a good thing and not a negative side effects. it is keeping me out of trouble. but I guess it is not a drug for everybody (so I am lucky that it is a good one for me) because reading reviews online I have seen people complaining on a lot of side effects like complete sexual drive loss, brain fog and many others. I recommend you to talk with your doctor before you decide to try it out.
for the benign prostatic hyperplasia I have been firstly given Flomax but I couldn't continue using it as it started to give me issues immediately and the side effects were so bad that I knew there is no more point even in thinking to try it again (like for example I developed a crazy tiredness a few days after I started it – a tiredness that got to the point I could not function normally). Well, the doctor got me off it and prescribed me Finasteride saying that this must be better. indeed, initially it seemed to be a better drug as it did helped me somewhat and that crazy tiredness seemed to disappear. However, it seems that this drug simply does not give you the side effects on an instant as Flomax does and it caused me to feel extremely tired too (maybe not as Flomax but it was still hard to live with that) as well as an occasional extremely exhaustion even if I was not doing anything too hard. Then later, after approximately one year or so while I have been using it, I started to be an impotent and that's even if I was using viagra. I saw that problems are getting over my control so I have quit to use it for about 6 weeks or so. Suddenly, I have felt back again normal with no erectile dysfunction (or at least, not as worse as while on it, by far not as worse) and without that extreme tiredness and exhaustion. Coincidence? Doubt about it as then I have started to use it again and guess what? oh yeah, I have started to feel tired and to have ED. I then quit again, the second time for approximately 2 months this time (a bit more than the first time) and yeah, I was feeling fine again. for the 3rd time I have started to use this drug to be fully sure in what I am talking about and I have started to get the same tiredness and the ED issues that seemed incurable and I guess they seemed so because although I tried some methods to cure my ED, they were not working because this drug kept "the problem in" and nothing has been allowed to work. I guess. Anyway, the point is – this drug is not as good as I have been thinking that it is so I have stopped to use it at all.
I use this drug and personally for me it is a very good and effective drug that really helps me with my androgenetic alopecia. There are drugs that do work but they are giving you either barely tolerable side effects that annoy you a lot or others that are not tolerable at all. however, for me this drug has worked amazing with little to know side effects at all and this taking in consideration that I have used it for more than 15 years now. I am currently having noticeably much more hair and it is much more thicker over my entire head. There are photos to prove it. I see the photos of me in early 2000 – late 90's and there are no more doubts that this thing has worked amazing. the receding hairline loss has completely stopped and as I said – it even regrown back. To be honest, it has worked so great for me for such a long time that I am pretty afraid to stop taking it. besides, the thought of: "why would I need to stop taking it?" also makes me stay on it. as much as it helps so much with my hair and I do not have side effects from it – I doubt that there are some needs for me to stop using it. besides, I have also been told that the small amount I am taking that is helping me with my hair, also can have a positive effect to my aging prostate. About this I don't know for sure so I don't want to tell anything but in the end: who knows? Maybe it is true and if I really benefit from it then once again: why would I need to stop using it? for those who are interested, I am using proscar pill but I don't take it all at once as I split (cut) it up in 4 parts and I take one quarter in order to make up the proper dosage for hair loss. Besides, taking a quarter of a pill means that I spend 4 times less money and the effects are better. overall, a very good medication that I would recommend for every man out there suffering from this condition.
I'm having a slow recovery from this drug and this is why I can't recommend to anyone to take. I would suggest you to stay away from it and to find an alternative medication. I have taken Finasteride (propencia) for about 2 months (even less than 2 months – about 6 weeks) and I did not had any side effects from it at all and I started to believe that I won't even have them anymore. in fact, in these weeks I started to think that I'm even more horny while I have been taking it. however, later, the erectile dysfunction has suddenly and very quickly set it. this is why I have stopped from using it. I have been thinking that I'm going to stop using it and the recovery process is going to start and soon I'll be fine, however, it has been a very and very slow recovery. A couple of weeks after I have completely stopped to use it, only then my libido has ONLY started to increase and I would start getting a bit harder than in the past. The point is that now it has been nearly half a year since I stopped it and I'm still not getting my maximum erection, I mean, I'm not maximum hard and I am not staying hard for long time but only for a little bit. Of course, with a little bit of manipulation, I can cum and the normal amount of semen is going to be released. The doc I am going to did not recommended me to use this med for the exact these reasons I am now complaining. However, I decided not to listen to him since I knew myself 3 men who were using this drug and they have had only good results from it. I am not only questioning myself and all of you how long I am going to have to wait until I am finally going to be in my full potential again. will I ever be normal again?? now, after seeing that bald isn't such a big problem after all, I would much rather choose to be bald than to suffer from these issues. It is very embarrassing for me to be with girls right now. I have actually did some blood tests before I took this med and everything seemed to be just fine. please, is there somebody who can tell me on how long does it take for other people to wait before you are going to get max hard once again? I've been thinking that since I have been all fine before I started to use it, I should be fine by now. is there somebody who have ever used this drug and have had the same issues? Please tell me how much time did you needed to have a full recovery? I am very worried that I'm going to be suffering from this for the rest of my entire life. thank you very much all in advance for your answers.
This is the second drug that I have been using for my condition: Benign Prostate Hyperplasia. The first drug that I have been using is Flomax but it did not worked at all. doc decided to change the active ingredient to finasteride thinking that this one should do a good job. This one did helped a little bit after about half a year of using it, however the side effects were much bigger than the benefits so I wasn't able to continue using it anymore. I have started to experience a very bad ED (erectile dysfunction), semen reduction as well as impotence. I really didn't liked the idea of being an impotent so I discontinued to take it. my sex is now good again after 3 weeks (nearly a month) after I have quit to use this drug. I can't say that it was completely useless because I can associate some hair growth with this drug so it is good, but as I said, side effects were too big. In case you start using this drug and you won't notice side effects then I assume that it might be a good drug to continue on using because it does what it is supposed to do or if you decide that the side effects are bearable for you. even though I did not liked this drug, I do recommend to try it for the same reason: you start taking it and if it doesn't have side effects then it is going to work well and you're happy. But even if you do have side effects as I did, then you simply stop using it and the side effects disappear and you haven't lost anything but at least… you have tried to search for a solution. Hope this helps. Good luck!
I am suffering from the Androgenetic Alopecia and I have used this drug for about a year and a half or so now it really seem to work and not only that it works, but it still works after so much time, this is a really good thing for me. of course, there might be a placebo effect or something, I don't know, the point is that this stuff is really decent and I do like it so I do recommend it to everybody else. the only med that is having the active ingredient finasteride is propencia (at least I couldn't find any other) and this thing is very expensive. In fact, it seems to me that this is the worst thing about this stuff: its cost… 2 bucks for one single pill. maybe you could find some generics form of this one and you won't find any problems. as I said, the only problem I have with this one is its too high price. also, I need to warn you that you should not miss too many doses otherwise it is going to take once again a while until it is going to work again (I have seen that it takes about a month to kick in the in the beginning or something like that… I don't know for sure). As I have mentioned, I have been one year and a half on this one and I didn't noticed any side effects that I could link to this drug so I can clearly say that it is helpful and worth trying. Good luck to each one of you that want to start its usage.