Renvela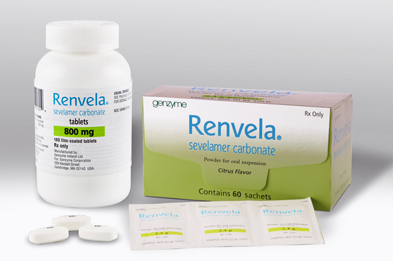 Renvela Reviews
I am having similar situation as other users of Renvela who have posted here. I have been on it for half a year now but I cannot stand anymore these side effects and I am discontinuing taking it. it has caused me very bad constipation lately. Initially I thought that the side effects would subdue as time passes but it seems that it happens the exact vise versa – with time the constipation have gotten worse. Also have had stomach pains and I was pretty often woken up during the night so it caused me to be tired almost all the time. Also had those chronic gases. Tired of everything. I have had hopes that this medication would be a good one but… I have told my doctor about my problems and he said that if adding hyomax to this Renvela there's a chance that the side effects would subdue. Before I have ever been on Renvela I was taking Fosrenol (too) and it seems that I am going back to it to prevent the high phosphate levels if the hyomax won't work. Is there anybody else who have taken hyomax? I would like to know if it really works or if it is just another money and time waste? I hate being in so much pains and I hate having so much problems. Seems that I would never live a normal and healthy life anymore. Anybody who has something to recommend me, please PM me!
I'm sorry guys for you, it seems to work very well on me. I am taking 3 pills for 3 times a day and it provides me with good effects. I have been on this medication for a little more than 6 months and since then my blood work has been doing very well. Since then I am mostly satisfied. I have not had almost any bad side effects except a light headedness but very rarely. I take it right after I had a meal, maybe this is the cause that you had such bad side effects? Talk to your doctor about dosage and when you should take it. hope it would fix your problems.
Took this drug for a little less than one year now intend to discontinue taking it. As the dosage increases my chronic constipation is getting worse. I also have chronic stomach pains. Frequency of taking the medication is too high and I also have some unknown side effects. Also keeps me up during the nights. Want to go for another medication, any recommendation? This one sucks.
It seems to be an effective drug effective drug but the side effects are a real pain in the @ss. Doctor diagnosed me with renal osteodystrophy with hyper phosphatemia about a little more than 8 months ago and few days later he prescribed me this drug. I take it for exactly 6 months. My blood work has been good for all this time but I have bad side effects such as stomach pains that are killing my sleep very often and severe constipation. Prior taking this drug doctor prescribed me fosrenol and I had the exact same side effects but much worse plus constant gas. This drug seems a better one than the previous but it's not perfect or normal. I really want to quit taking this drug and I'm currently searching for another one. However, it's hard to find one, at least much harder than I thought it is going to be. Also, I'm upset about the frequency of the medication I need to take. Is there someone who can recommend another drug that can help me in treating my condition but with no or at least fewer and lessen side effects? My doctor doesn't know any and I'm desperate.
Used renvela to treat hyperphosphatemia of renal failure. I would not recommend it to anyone! At first, I took 2 pills each day and no improvement was noticed. The only thing I could notice was side effects. Doc said I need to raise up to 4 pills a day. Still, zero positive effects but side effects got even worse. These pills upset my stomach and it causes me severe diarrhea. Moreover, as I increased the dosage constipation was getting worse. Blood pressure is the same since I started to take it. Even when I didn't had diarrhea I was having frequent gas. In general I was feeling bad. There was no point to continue using this drug with no positive effects and I was tired to have stomach pains so I stopped taking them. I had unpleasant experience.