Self-Introduction of AllDayChemist.com
AllDayChemist.com is an online pharmacy that seems to be mostly oriented in selling generic medications and a pharmacy with overall a very high selection of medications. There's information on the site suggesting that this online pharmacy has started to run its pharmaceutical activity in 2002 which means this is a long standing pharmacy (16 years to be more exact) and that's really good if that's true as it is easier to have trust in a long running pharmacy rather than one that has just appeared online. Although the pharmacy is mostly oriented in selling high quality generic drugs that are being manufactured by the most famous manufacturers, the pharmacy still seem to have other types of drugs. According to what the administrators of this online pharmacy is saying, the pharmacy is offering some of the most attractive prices all over the internet. The information on the site is claiming that this website is a professionally managed generic drugs distributor, supplying generic drugs and formulations to patients around the world which means they are a pharmacy offering world wide shipping. Without ever compromising on quality, the drugs sold here are of the highest quality. This pharmacy is also offering 100% satisfaction guaranteed. This means that if for whatever the reason you do not receive the order you paid for, or it was damaged, the pharmacy offers free reship. In the end, this pharmacy claims to have a few main points why it is worth using their company and they include: hassle free service; savings and safety; best buy at best prices; best manufacturers; their community with new products and information; high quality medications; wide health supplements selection; referral program and reliability. Due to all of this, they are a pharmacy gaining popularity among customers all over the world.
Assortment of Products All Day Chemist
As it was earlier mentioned, this online pharmacy is mostly oriented in selling generic medications as their widest selection is mostly consisting of generic products. These products are covering a wide list of categories of medications. To be more exact, there's a total list of 56 different categories of medications and each of those categories are having at least 10 different items but it can be even more up to like 20 – 30 items. With this being said, there seem to be at least one thousands of different health products people can find. The categories of drugs are being arranged alphabetically which allows customers to easily find the category they are searching for. Besides being able to search for the needed drug using the categories of medications looking like this: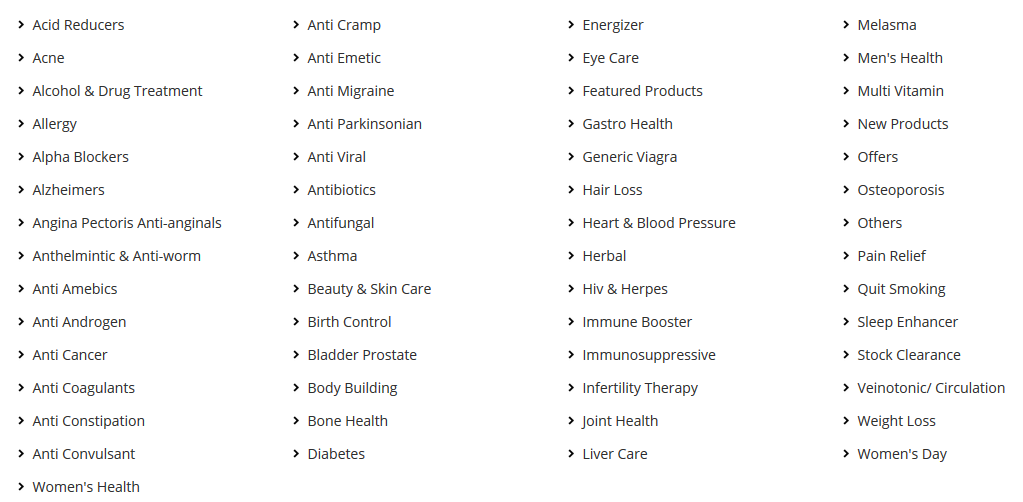 People are also able to search for their needed drugs using the search function that is available on their site. This function is very helpful if you know the exact name of the drug you're searching for. This search bar can be found on their site looking like this:

As much as it seems this online pharmacy is being mostly oriented in selling medications for Eye Care and Men's Health, or at least that what it seems by checking their front page where they offer a quick search for these 2 types of drugs.

While you're searching for needed medications you can find detailed information about those medical conditions that are being related to the exact category that you're searching for. In addition to that, when you're going to search for the specific medication you can also see some detailed information about that drug with most useful information about it such as how to use and others. All of this is super helpful for those who are planning to take a drug for their first time.
Another thing to mention here is the fact that every category out there is offering another helpful option – comparing several drugs. The properties of chosen drugs are being compared so you can know which is better for you personally. To be honest, I've never seen such options on other different pharmacies and that's a really good thing to my opinion. In fact, the pharmacy ask other people to send them their ideas and suggestions on how to make the pharmacy improve their services so that's really good to my opinion.
In the end, keeping in mind that there is at least a thousand of different medications and there are drugs for different health conditions as well as some special function that is available to customers, I can say that this pharmacy well deserves 4 stars for this unit. I can't say that it deserves 5 stars only because they do not offer any branded medications and this could be a problem for some customers.
Prices Affordability
I am mostly going to pay attention to ED medications prices and hopefully, medications in all other drug categories are in the same price range so we can assume that all the prices are the same – either low or expensive. So, I have started checking the ED meds and my first impression is – people indeed can save some money using this pharmacy's services. People can save some money even if comparing the prices with other online pharmacies. Nevertheless, I still think that there are other pharmacies offering slightly lower prices. To be honest, I found this pretty strange and that's because, as much as it seems this pharmacy doesn't offer branded drugs. Since they are specialized in selling generic drugs only, why the prices aren't the lowest possible?
Here's an example, Suhagra 50 mg (which is generic version of Viagra – sildenafil citrate) would cost you anywhere between 1.86 USD and 1.20 USD per pill depending on the quantity of pills you get.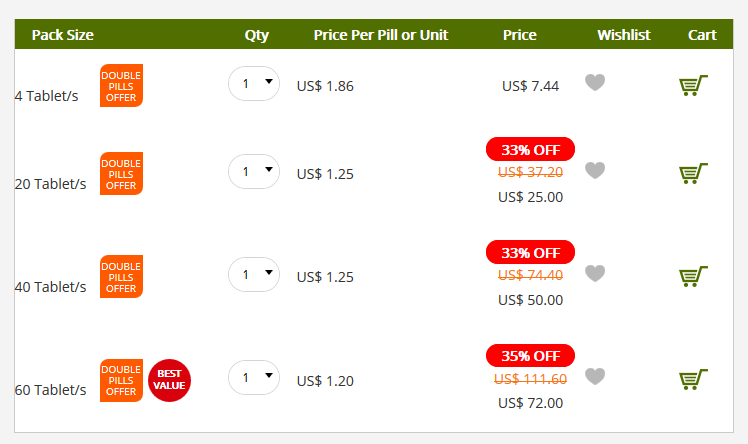 Taking in consideration that I found other online pharmacies with prices lower than 1 USD per pill for sildenafil citrate 50 mg, I can say that the prices here are good, but they are not the best.
The exact same thing applies to the other 2 famous ED medications – vardenafil and tadalafil, the prices are pretty good, but I can't say that they are the best prices out there.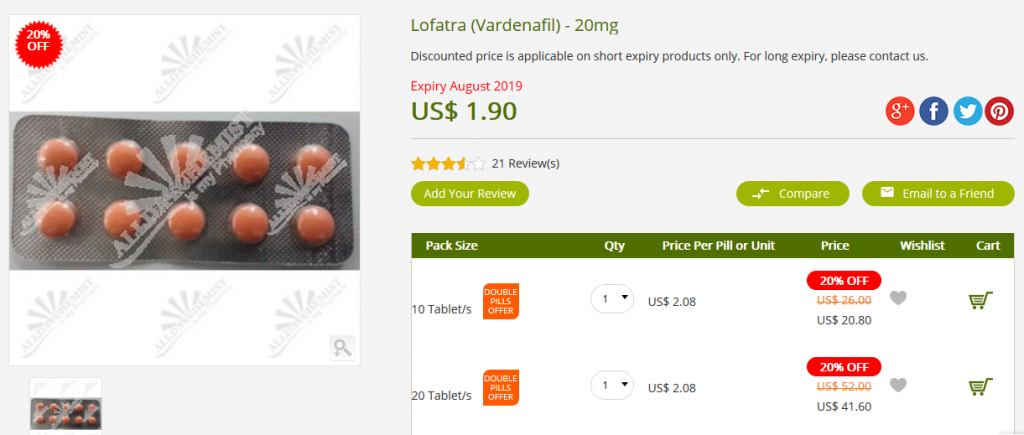 Since people indeed can save some money using this online pharmacy I am going to rate them with 4 stars. Again, I can't give them maximum star rate since there are pharmacies with slightly lower prices than those I found here.
Shipping Policy
Unfortunately, this online pharmacy does not offer a special page for shipping details but I did found some information about the shipping policies on their FAQ page. plus to that, I have tried to go on the checkout page as usually there are given some details about the shipping options. What's strange is that although there is information about shipping on the FAQ page and I tried to checkout – there is no information about the shipping methods they are offering. Another strange thing – no information is offered about where exactly they are shipping. I had to go on the delivery information when trying to checkout and when selecting the countries I managed to see they are offering some countries where to ship medications, however they definitely do not offer world wide shipping, as claimed.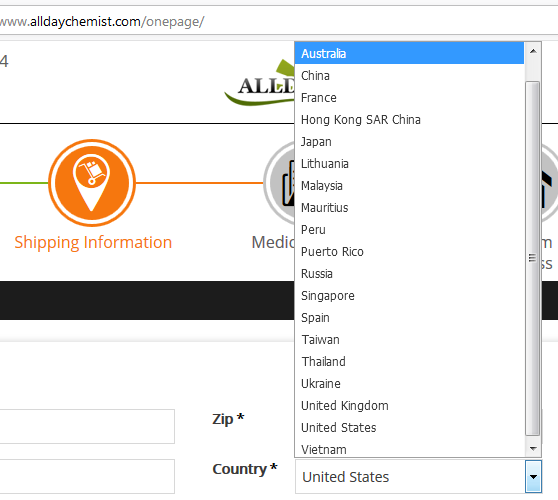 Only on their banner on the main page I managed to find that the shipping fee cost is 15 USD for orders under 150 USD and 10 USD for orders over 150 USD. As much as it seems, you get a discount of only 5 USD for bigger orders and that's it. Checking out on their site the shipping fee is added automatically and you can't choose a different shipping option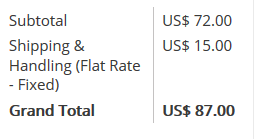 In the end, there seem to be a lot of information that misses, the information isn't clear, they claimed to offer world wide shipping while there are only a few countries to ship medications to. There is no option to choose your shipping, shipping fee is quite high and no way to get it for free, only 5 USD discount for orders over 150 USD. Shipping policy leaves so much desired and that's why I rate them with 2 stars.
Payment Options Available
On their main page they are suggesting that now people are able to pay for their orders using the echeck. There's an entire banner with this.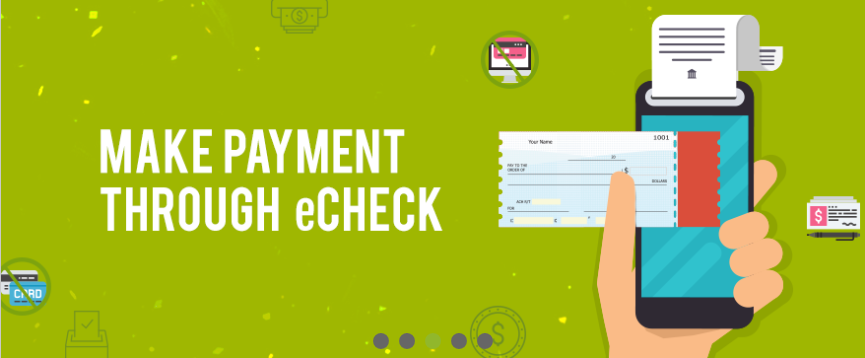 Of course, I wanted to check what other payment methods they are offering. According to the information on their FAQ page, the payment methods accepted by this pharmacy includes: check/ money orders or echeck (but this is only for USA customers). For larger orders (more than 1000 USD) they are also considering wire transfer, check and money order.
What's strange is that in the end, this online pharmacy does not seem to accept any credit cards. That's really sad as many people's preferred way to pay for their items they buy online is via credit cards. In addition to that, I do think that this online pharmacy need to add other payment methods.
Since there are no wide choice of payment options and especially no credit cards, my rating can't be higher than 2 stars for this unit.
Technical Details of Alldaychemist.com
Google Page Speed Check Out
Every website needs to have good indicators of technical characteristics, and that's especially those websites which are trying to attract customers. They definitely won't attract anybody when the technical characteristics are poor because customers might not want to visit a slow running website with poor optimization. Checking the Google's test – Page Speed I was able to determine these points and unfortunately, they are not good at all. I am going to post a picture of what they are looking like – the page speed and optimization for both mobile version and desktop version are red market which means that it couldn't get any worse. The page speed is slow and the optimization is low meaning that the customers might wait for a while until the pages on this site are going to respond.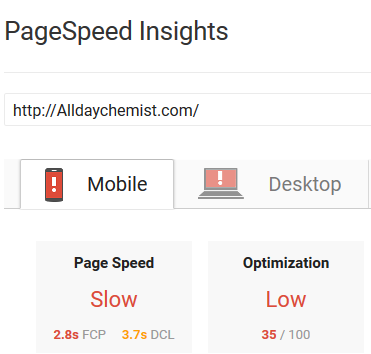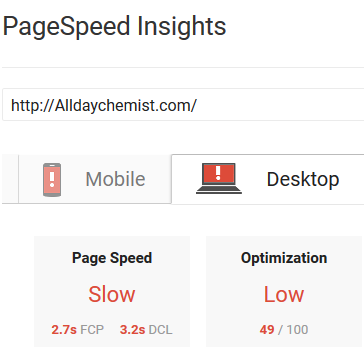 The saddest thing is that these numbers and indicators are even lower than average and I do think that the administrator of the site should do something about this as soon as possible. As long as alldaychemist.com is going to have so bad indicators my mark won't get any higher than 1 point.
Mobile Version of AllDayChemist.com
As much as we can see in the picture above – the website does feature a mobile friendly page which means that the site should be easily used on a mobile device. I have tried to check it myself by using my smartphone and although indeed the site seem to be optimized for smaller screens – there are lots of issues. It is overall poorly arranged on my screen, there are some disadvantages and stuff that make me, as a customer, pretty annoyed. I do think that there are some problems that needs to be fixed. Google found there are some page loading issues as well as much as we can see in the photo above. All in all, this aspect gets a rate of 2 stars.
Is Connection with AllDayChemist.com Secure?
The connection with this online pharmacy does seem to be secure as you can check this as soon as you enter their main page and you are going to see the *green lock* near the address bar. Clicking on that green lock you can find information suggesting that the site is 256 bit SSL encrypted which is a high security level.

Nevertheless, I have found out that there are other pages that are not protected  and that might be a problem as every page found on a website should be secured.


For this unit, this online pharmacy is going to get a rate of 3 stars. The customers data seem to be well protected by high security levels but unfortunately, customers data is not protected on every page of this pharmacy and that's why I can't rate them with 5 stars.
Antivirus Presence on Site
By searching for an antivirus on their website you can see on the right bottom side of their pages an icon suggesting that the site is McAfee secured. Clicking on it you're going to see the following:
This means that alldaychemist.com indeed offers a protection from viruses and other internet threats. The customers can be sure that they are not going to get any unwanted programs in their devices. The company is responsible about customers protection so my mark here is 5 stars.
How to Make an Order?
Unfortunately, it does not seem that the ordering process is really simple as trying to do so myself took some time and a bit of effort. People are choosing the needed medications using the methods I earlier mentioned in my review and after choosing them by clicking on the "cart icon" you're redirected to *login* page. There you can either checkout as guest or create an account on their site and login as their member. This is the first step out of 5 different steps that you need to make according to their information on the site.

I personally didn't really loved the fact that I had to enter my entire medical history and to go all those steps. In the end, the ordering procedure is not really hard, nevertheless, I still think it could be much easier. For this unit, alldaychemist.com receives a rate of 4 stars.
Is Alldaychemist.com Legit?
Is the Website Reliable?
Luckily, the information that I have got on scamadviser.com looks pretty good. scamadviser.com suggested that it is a high trust rating website and that's why it looks safe to be used. The site, as promised, is indeed 16 years old and that's really good. There is the organization and owner name being displayed meaning that there are not too much secrets. What I didn't really loved is that probable website origin is from 4 different places: US; Barbados; European Union or Netherlands.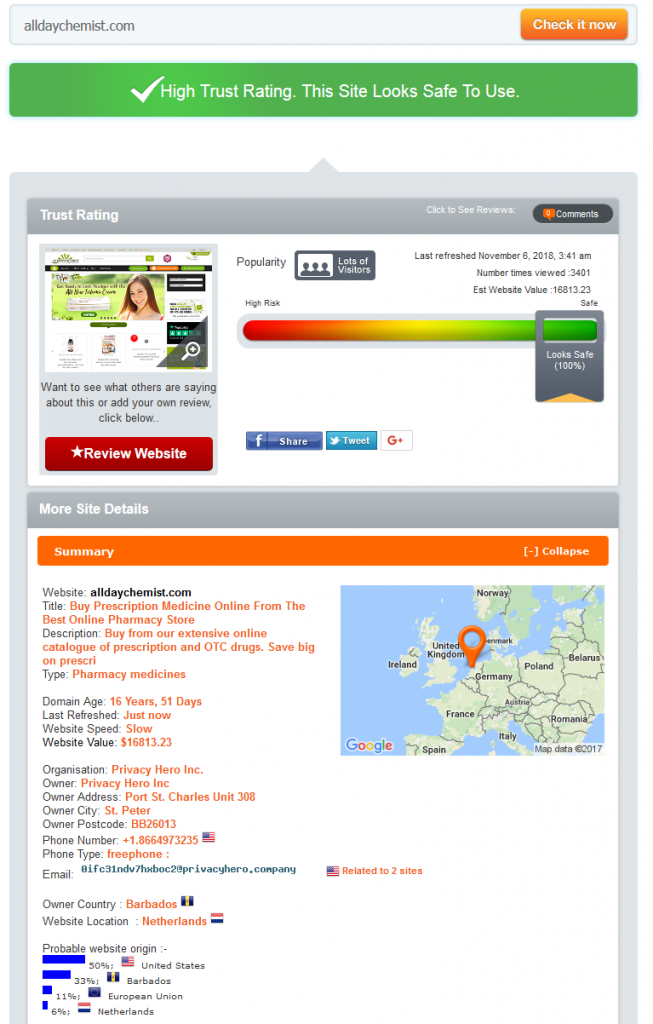 My rate is 4 stars here because the origin of the website is questioned plus to that, I could not find there a legal address and that might be a bit of a problem.
Prescription Requirements
According to the information on the site, the pharmacy is asking for a prescription only for those drugs being sold on Rx. Nevertheless, as I proceeded with the order, I have realized that this pharmacy does not ask for any prescription and this was a false fact that they do need a prescription for sending prescription products. Anybody may get whatever medications they are looking for freely without any problems.
Besides the fact that I rate this pharmacy with 1 star for prescription requirements because they do not ask for one – I rate them with 1 star because the information is false!
Alldaychemist.com Legitimacy
As much as we can see in the pic I shared below, the legitimacy test of legitscript.com has been failed by alldaychemist.com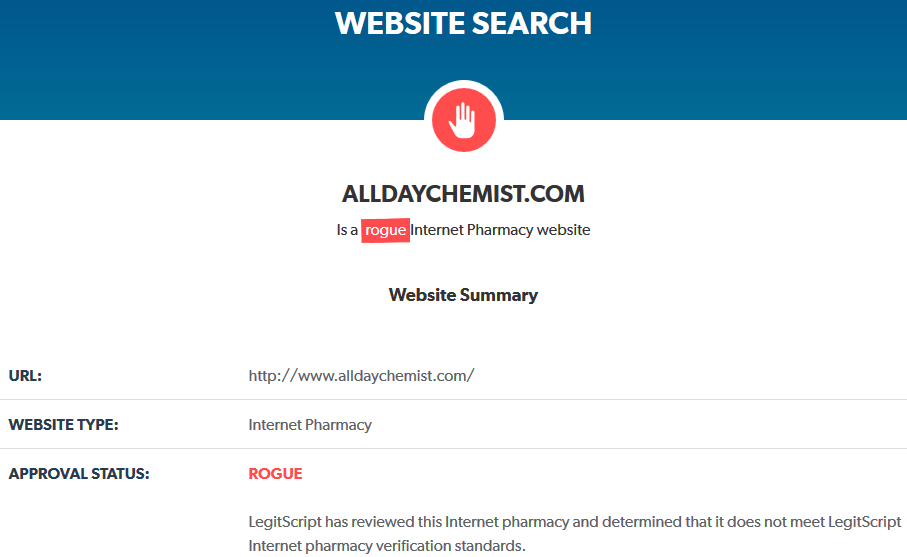 The approval status is Rogue and this means that this online pharmacy does not meet any criteria for becoming a legal online pharmacy. Since this is an illegal online pharmacy, there are high risks that customers won't get anything after sending their money or receiving counterfeit products. It is obvious that I don't know the reasons why this pharmacy has got such a status, but since it did got it – that's an alarming sign that we should stay away from it as the risks are very high. My rating for such an approval status is 1 point.
Alldaychemist.com Reviews
Testimonials on Alldaychemist.com
There's an entire page on this online pharmacy's website with testimonials and I obviously got interested in reading those reviews. As much as it seems, there are a lot of reviews, according to the information there, up until this moment there is a total of 780 different testimonials on the site. as much as it seems, the recent comment was less than a week ago with the oldest one in 2013. By reading those comments I come to the conclusion that everyone was happy with the services they have got from this pharmacy and there are no unsatisfied customers. The reviews seem to be informative and they are all unique with no other website featuring same reviews. That's really important because usually, non unique reviews are fake / copied from other sites.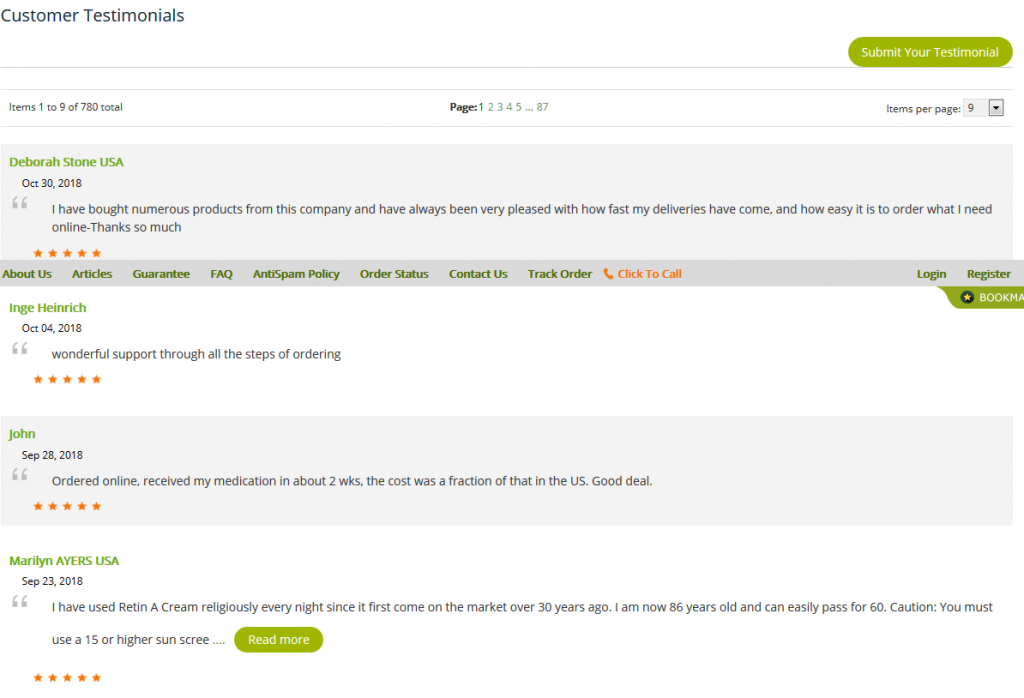 For the presence of own page with a lot of unique, informative and positive reviews I have read on their website – alldaychemist.com well deserves a rate of 5 point.
Other Websites about Alldaychemist.com
What's super strange is that I have found customer reviews only on TrustPilot.com about this online pharmacy. To be more exact, it seems I found 5258 of customer reviews but all of them were only on TrustPilot.com with no other sites to have some comments on reviews about this online pharmacy.

As much as we can see, the overall rate of those customers is 5 out of 5 and that's amazing. A lot of people are explaining that ordering from this online pharmacy is good and without any problems, many of them praising different things.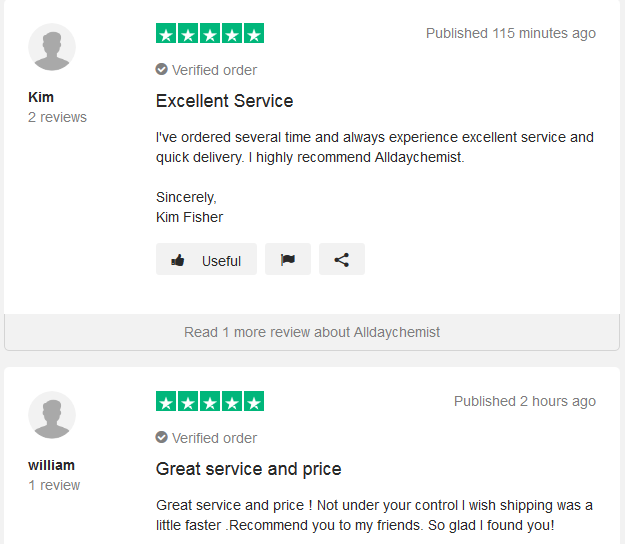 Nevertheless, there are few other people who said that there are problems going around this company.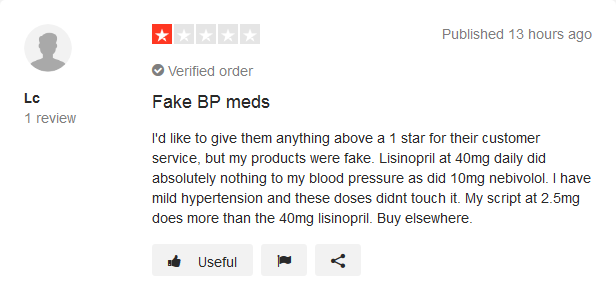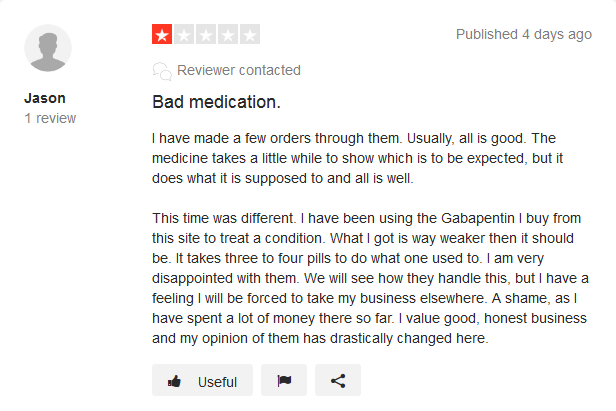 So as much as we can see, there are both types of reviews, but it is without any doubts that positive ones are much more. My rate is 4 stars here.
Alldaychemist.com Coupon Code
According to the information on the website, this online pharmacy is providing several offers to their customers. In fact, this pharmacy is having a special page named "coupons and offers" which people can check to see what this pharmacy has to offer. Obviously – I checked it.

What I noticed there is 46 different  medications with different discounts and that's it. I couldn't find anything else there.

The last thing that I can mention here is the fact that this pharmacy does offer coupon codes which would make you save some money. Before going on the checkout page, you should redeem your coupon code.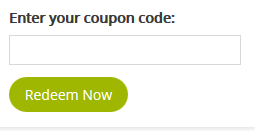 All in all, I am going to rate alldaychemist.com with 3 stars as there should be other special offers to my opinion, more of them, plus I couldn't find coupon codes online.
Alldaychemist.com Customer Service
«Contact Us» Page
By clicking on their contact page here's the image that you're going to see:

As much as you can see, you will find phone and fax numbers as well as the information about their working hours. You can also see the contact form which you need to fill up to get in touch with the pharmacy. A big problem here, to my opinion, is the fact they do not offer any mailing addresses.
Another thing I have noticed is that people are able to request a callback if they wish to. Another advantage and the biggest advantage to my opinion – this online pharmacy is having a live chat function which allows you to talk with them instantly online.
My rate here is 4 stars because there's no email or mailing address offered on the site.
Getting a Consultation
Usually, when there's live chat function on the website, that's pretty easy to get in touch with the pharmacy. It is obvious that I wanted to get a consultation using the live chat function but I couldn't. I clicked on live chat function and here's the message I got:
I honestly think they should do something about it and until they do something about it my rate is 1 star here.
Conclusion: Good Customer Reviews but Double Check All the Information
AllDayChemist.com is an online pharmacy which is offering generic medications to a limited number of countries although they claimed to offer them worldwide. There's limited information about shipping policy and limited payment options. They do make the impression of a reputable and reliable service by the customer reviews I found about them and info on scamadviser.com. They have wide selection of drugs and low prices.
Nevertheless, there are still some problems going around. Legitimacy of the pharmacy is rogue, there are big technical problems, not all pages are secured and the company overall does not seem to be fully transparent. I am only recommending people to be careful if trying to get anything here.